Journalist, Laura Loomer, was on the ground in Minnesota before Ilhan Omar was elected exposing the fraud that she was. She was called an Islamaphobe, a right wing troll, a conspiracy theorist, and many more. She was deplatformed for her expose. She had her bank account temporarily closed at Chase Bank. She was permanently dropped by PayPal and Venmo. No longer could she use Uber, UberEats, or Lyft to name just a few. All because CAIR (Hamas) pressured companies like Twitter to deperson her.
It appears she is being investigated, but it's hard to have any confidence in the FBI given the number of Democrats they have let walk free.
Today, The Blaze is reporting this story by David Steinberg- On Oct. 30, I reported that the Department of Justice had assigned an FBI Special Agent in Charge, or SAC, to review Rep. Ilhan Omar's apparent, astonishing spree of felonies from 2009 to 2017.
Minnesota state Rep. Steve Drazkowski (R) had previously filed a complaint on the matter with the Minnesota District of the Department of Justice. That office — headed by U.S. Attorney Erica MacDonald, a 2018 Donald Trump appointee — directed the FBI to review the complaint. An FBI SAC formally met with Rep. Drazkowski, and others, in mid-October to receive a prepared file of evidence and related information.
I can confirm that the FBI has taken additional steps since this October meeting.
Laura Loomer got frustrated because NO ONE came to her defense other than a few friends. She was shunned by outlets like Fox. Brave souls like Pete Hegseth and Judge Jeanine endorsed her, but aren't allowed to tweet about it or have her on Fox. Other outlets just ignored her because they didn't want to do any real journalism anyway. It wasn't their problem after all. So Loomer had to take things into her own hands. If she wanted to affect change, she would have to run for Congress, and that's exactly what she's doing. She's had it with the coward RINO's, MSM, and the corrupt Democrat party. President Trump retweeted my tweet in support of her on 12/28/19. Michelle Malkin, Judge Jeanine, the Limbaugh team, Roger Stone, Brandon Straka, Terrence Wiliams, all endorsed her because they're rebels themselves. She's running in President Trump's district, so if you want to see the rebel get elected and stick it to the Democrats, RINO's, and MSM, then please donate whatever you can afford to https://secure.lauraloomerforcongress.com/jr
***
Laura Loomer is Running for Congress in President Trump's Home District-Why She's Worth Supporting No Matter Where You Live in the U.S.-When I say Support, I Mean Give Just $10 Because It Truly All Adds Up https://secure.lauraloomerforcongress.com/jr
-She's the anti-AOC. Republicans NEED someone who will stand up to The Squad which is driving impeachment, anti Judeo-Christian agenda, and a full blown Communism agenda from the Democrats.
-As Judge Jeanine said when endorsing her, "Laura Loomer stands up for what's right regardless of the consequences." This is VERY important because the reason Republicans and the MSM (even Fox) won't stand up to certain issues is because they're 'afraid' of the backlash. Advertisers dropping them & big money RINO donors dropping them are real consequences of standing up for what's right.
-You might say, "We've heard that before, and they get into Congress and become part of 'The Swamp.' You're right in general. That does happen. Why do I think Laura Loomer is different? Because she's already shown by 'ACTIONS' not empty words, that her word means something. She's been deplatformed from social media, Uber, Uber eats, Lyft, Chase temporarily closed down her bank account, PayPal, Venmo, and many, many more sites for confronting crooked politicians and jihadists and calling them out.
-Many people say, "There's no way AOC, Ilhan Omar, and Rashaida Tlaib will get re-elected, but I say you're wrong. They're in demographically favorable districts to them. You might say, "Omar and Tlaib have broken many laws and will be arrested." Again how long have we been saying Clinton, Comey, and the Deep State are still free. Who in Congress is screaming from the rooftops to arrest them? I'll tell you, NO ONE. IF YOU WANT SOMEONE WHO IS LIKE PRESIDENT TRUMP & WILL NOT BE COWTOWED BY THE PC POLICE, THEN YOU WANT LAURA LOOMER FOR CONGRESS-HANDS DOWN-NO MATTER WHERE YOU LIVE.
–She's going to FIGHT FOR free speech, for our 2A rights, she's pro-life, pro-capitalism, pro-military, pro-Israel- pro-Judeo-Christian values, pro secure border (not in any order of importance), and most of all she's pro- MAGA.
-Another high profile anti-DEEP STATE personality who has endorsed Laura Loomer for Congress. Malkin is sick and tired of the swamp rats and knows Loomer is going to head into Congress with a rocket launcher aimed at The Deep State. https://secure.lauraloomerforcongress.com/jr
In October, the FBI SAC stated that the wide range of criminal activity suggested by the evidence against Rep. Omar may lead the FBI to expand the review to other federal departments. In such situations, the SAC continued, the FBI often acts as a hub — sharing evidence, or coordinating a joint investigation, with several other investigative agencies.
Indeed, this has since occurred.
At least the following two federal agencies were contacted by the FBI with information regarding Rep. Omar. The FBI then placed the October meeting attendees in touch with selected investigators within these two agencies:
1. Department of Education Inspector General
This is related to evidence suggesting that Rep. Omar's 2009 marriage to a UK citizen may have been an attempt to facilitate federal student loan fraud, or other fraud involving higher education.
● Shortly after Omar's 2009 marriage, the new couple moved to Fargo, North Dakota. Omar enrolled at North Dakota State University in August 2009. Her husband enrolled the following year.
Omar received a degree in June 2011. According to Omar herself, she and her husband then permanently separated in June 2011. The marriage's start and end coincide with the start and end dates of Omar's NDSU enrollment.
Incredibly — according to address records, and a statement from Omar herself — she was also still living with her first husband, and their two kids, throughout this second marriage.
● In 2017, Omar finally filed for divorce. Under penalty of perjury, she submitted a nine-question form to the court attesting to having lost all contact with her NDSU husband in June 2011.
Dozens of verified social media posts, photos, and even a 2016 interview with the NDSU husband indicate otherwise. It appears Omar perjured herself eight times answering those nine questions.
2. Immigration and Customs Enforcement
● This is related to evidence suggesting a breathtaking number of possible immigration-related felonies. As I stated in an introductory passage within my July 18 article:
The [following] answers to those questions about [Rep. Omar's 2009 marriage] appear to give probable cause to investigate Omar for eight instances of perjury, immigration fraud, marriage fraud, up to eight years of state and federal tax fraud, two years of federal student loan fraud, and even bigamy.

To be clear: The facts describe perhaps the most extensive spree of illegal misconduct committed by a House member in American history.
The involvement of ICE with a possible criminal investigation could hardly be of greater political import to Omar.
The involvement of ICE with a possible criminal investigation could hardly be of greater political import to Omar.
For several years, Omar has vigorously supported the abolishmentof ICE. Her 2020 re-election platform — featured on her campaign site, and pictured below — targets ICE agents with vicious rhetoric that simply must be read by interested parties.
States Omar's site: "Immigration and Customs Enforcement (ICE) is an unreformable organization that has become increasingly militarized, brutal, and unaccountable."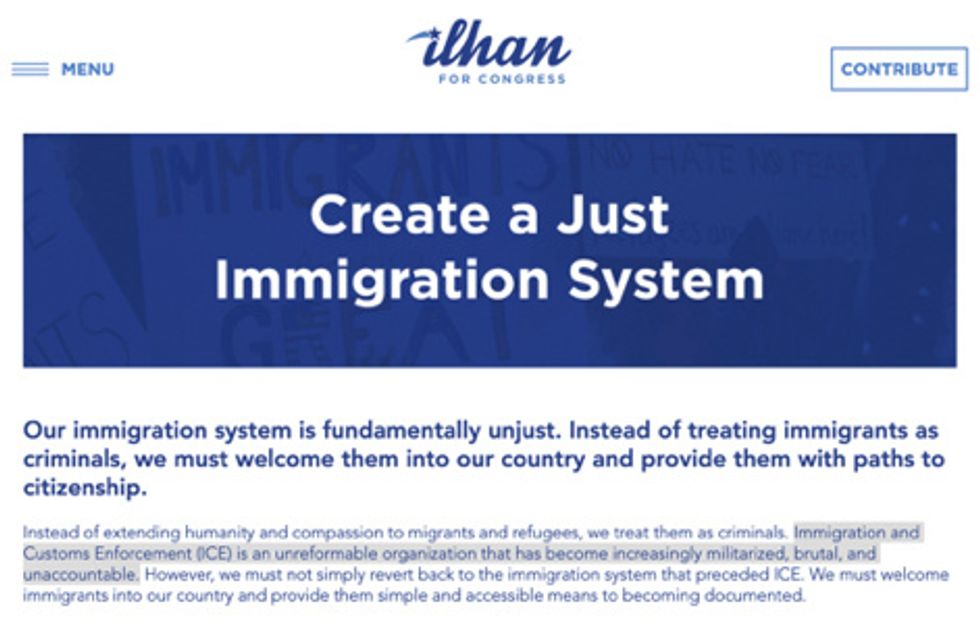 Since August 2016, the remarkable story of Rep. Ilhan Omar's past has produced scarce political, law enforcement, or media activity. A near-perfect inversion of the Trump/"Russian collusion" yarn, with which it is inseparable.
Consider how the Trump investigation was initiated, as former FBI Director James Comey tells it. (Recent statements from Attorney General William Barr and U.S. Attorney John Durham suggest disagreement.) Comey treated an unverifiable claim, from a foreign diplomat, of a drunken remark by a low-level Trump staffer as predicate for spying on a presidential campaign.
Comey never did find stronger evidence. Yet the Democratic Party and supportive media hardly paused, for three years, covering this investigation.
Laura Loomer was on the ground in Minnesota reporting extensive, verified, still-unchallenged evidence implicating Rep. Omar in multiple felonies. Her substantial evidence was ignored by the Democratic Party and supportive media. Her evidence was even ignored by law enforcement, per an extraordinary public dismissal shortly before Omar's 2016 election to the Minnesota House of Representatives.
FBI guidelines require only "'articulable factual basis' of possible criminal activity" to open an investigation. By September 2016, Johnson and Samsundar had objectively breached that threshold. Picture Comey applying his "Crossfire Hurricane" standards to their work — perhaps Omar's trial reaches the sentencing phase before the November election.
Rep. Omar now appears to be receiving the scrutiny her "articulable facts" have deserved since August 2016; perhaps a criminal investigation is open.
Do you LOVE Laura Loomer? If so, please support her by purchasing The Switch-Featuring Laura Loomer. Laura's proceeds from the book help fund her independent journalism. Laura Loomer's gutsy journalism has earned her prominent followers in her quest to become Congresswoman of the 21st district of Florida_the permanent residence of President Trump. President Trump retweeted a tweet of mine on 12/28/19 in support of Loomer. For those who don't know this, Loomer has been deplatformed everywhere for exposing Ilhan Omar's Jew hatred. I have been her leading voice on social media promoting her. She's been endorsed by Judge Jeanine, Michelle Malkin, Chuck Woolery, Terrence Williams, and many, many more because of her no holds barred attitude in getting to the truth. https://www.amazon.com/Switch-Loomered-Julie-Reichwein/dp/151365425X/ref=tmm_pap_swatch_0?_encoding=UTF8&qid=1572375249&sr=8-1
TAGS LAURA LOOMER LAURA LOOMER FOR CONGRESS THE SWITCH LOOMERED THE SQUAD ILHAN OMAR PRESIDENT TRUMP JUDGE JEANINE PIRRO MICHELLE MALKIN