As Cristina Laila reported earlier that Aaron Zelinsky abruptly resigned, then Jonathan Kravis resigned, according to a court filing in Washington federal court.
Next, a third Mueller prosecutor Adam Jed announced he will withdraw from the Roger Stone case.
Now a third one is racing towards the exit.
Speaking to reporters on Tuesday, Trump said he stayed out of internal DOJ deliberations, but strongly opposed their initial sentencing recommendation. "I stay out of things to a degree that people wouldn't believe," Trump said.
He added that the initial recommendation was "ridiculous" and called it "an insult to our country."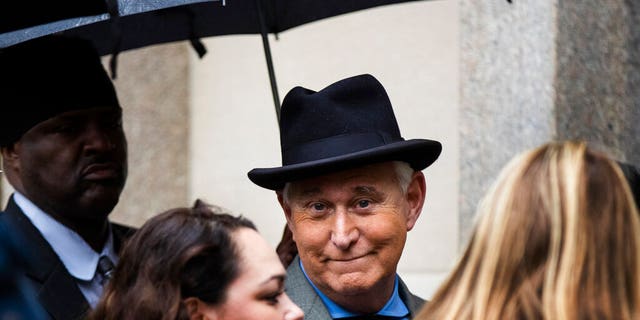 "
CNN Reports- "Three federal prosecutors have withdrawn from the case against longtime Donald Trump confidant Roger Stone after a decision by top Justice Department officials to disavow and undercut their own federal prosecutors by reducing the government's recommended sentence against him.
The stunning and politically charged decision to reduce prosecutors' recommended sentence of nine years came hours after Trump publicly criticized it, immediately raising questions about the Justice Department's independence from political pressure.
Prosecutors from the US Attorney's office in Washington, who are employees of the Justice Department, had said Monday that Stone should be sentenced to seven to nine years in prison after he was convicted on seven charges last year that derived from former special counsel Robert Mueller's investigation, including lying to Congress and witness tampering.
That recommendation led Trump overnight Tuesday to bemoan what he called a "horrible and very unfair situation."
"The real crimes were on the other side, as nothing happens to them. Cannot allow this miscarriage of justice!" Trump said. He later told reporter in the Oval Office that he didn't ask the Justice Department to change the sentencing recommendation.
Roger Stone got his start in politics back in the Nixon administration and helped to elect President Trump in 2016. He's also been a mentor to Congressional candidate, Laura Loomer. She's a Jewish journalist running against Pelosi crony in President Trump's home district. She's received support from President Trump and endorsements from many high profile individuals including Roger Stone. President Trump has retweeted a tweet of mine in support of Laura Loomer on 12/28/19 and rented her emails out for fundraising twice in the last week. She still has primary contenders although they're hanging on by a thread, so the President doesn't normally fully endorse until the primary field clears out, but he has shown support ONLY for Laura Loomer. If you aren't familiar with her, I have a few videos below of her. You can donate here and any size donation is appreciated. https://www.youtube.com/watch?v=yU6V_I6z9aA
Jewish journalist, Laura Loomer, made her name investigating corrupt politicians such as the Clintons, James Comey, Mad Max, and many others. She was the first reporter to investigate Ilhan Omar and Rashida Tlaib before they were elected. She was deplatformed from Twitter for a post she made stating that Ilhan Omar was anti- Jew and pro Sharia. CAIR (Hamas) lobbied Twitter to remove her. Because a group of Saudi investors own a large chunk of Twitter stock, Loomer was booted from the platform. Facebook and Instagram did the same several months later. Loomer attempted to fight back, but the MSM and RINO's were to PC to help her out. Michelle Malkin remained in support of her and called out the MSM. Loomer realized if she was going to effect change in this country, she would have to run for Congress to take the swamp head on. She announced a run for Congress last August in President Trump's home district. https://secure.lauraloomerforcongress.com/jr
Loomer has filed lawsuits against Big Tech for bias against conservatives, monopolistic behavior through anti-trust, and election interference as they refuse to let her back on social media even as a candidate. Some might say, 'This doesn't affect me,' but I'd say you're wrong. Another post of mine is about a long term police officer in Florida who got suspended for 'liking' a post of his wife's on Facebook that criticized Omar and Tlaib. Loomer has been suspended from more than just social media for being outspoked. She's banned from Uber, Uber Eats, Lyft, PayPal, Venmo, GoFundMe, medium and several others. She also had her bank account at Chase Banks temporarily closed down. https://secure.lauraloomerforcongress.com/jr
On 12/28/19, President Trump retweeted a tweet of mine in support of her. This week he's renting her emails out for fundraising. We're hopeful that a full fledged endorsement is coming soon as he's been taking incremental steps. Judge Jeanine, Michelle Malkin, Brandon Straka, Roger Stone, and the Limbaugh teams have endorsed her because of her relentless pursuit of the truth. If you want to help her, please donate anything you can afford. Small amounts are welcome and add up. Some videos below if you're not familiar with Laura Loomer. https://secure.lauraloomerforcongress.com/jr
If you enjoy modern day thrillers, then I think you'll like The Switch-Featuring Laura Loomer.
TAGS LAURA LOOMER FOR CONGRESS THE SWITCH LOOMERED PRESIDENT TRUMP MICHELLE MALKIN JUDGE JEANINE RUSH LIMBAUGH CORRUPTION IN AMERICA ISLAM IN AMERICA